*I received this book for free from the publisher via NetGalley in exchange for an honest review.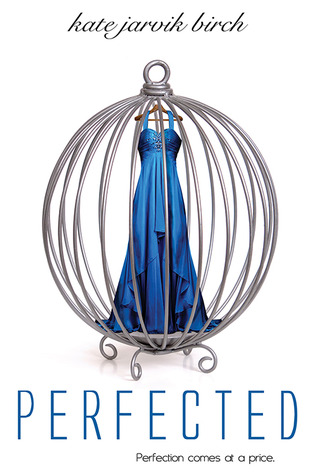 Summary via Goodreads:
Perfection comes at a price.
As soon as the government passed legislation allowing humans to be genetically engineered and sold as pets, the rich and powerful rushed to own beautiful girls like Ella. Trained from birth to be graceful, demure, and above all, perfect, these "family companions" enter their masters' homes prepared to live a life of idle luxury.
Ella is happy with her new role as playmate for a congressman's bubbly young daughter, but she doesn't expect Penn, the congressman's handsome and rebellious son. He's the only person who sees beyond the perfect exterior to the girl within. Falling for him goes against every rule she knows…and the freedom she finds with him is intoxicating.
But when Ella is kidnapped and thrust into the dark underworld lurking beneath her pampered life, she's faced with an unthinkable choice. Because the only thing more dangerous than staying with Penn's family is leaving…and if she's unsuccessful, she'll face a fate far worse than death.
For fans of Keira Cass's Selection series and Lauren DeStefano's Chemical Garden series, Perfected is a chilling look at what it means to be human, and a stunning celebration of the power of love to set us free, wrapped in a glamorous—and dangerous—bow.
My Rating: 4 out of 5 stars
My Review:
I wasn't sure if I would be able to get past the "pet" thing while reading this book, but I actually really enjoyed this book. It was an interesting concept and the story was well written. It had me hooked from the first line and continually got better as the story progressed.
Ella lives in a world where girls are genetically engineered, and bred, to become pets for the wealthy. She is taught how to act, how to talk, and how to be obedient. She is constantly reminded that she is different, that when it comes to the family that owns her, she will never be one of them. She is just a pet.
Ella was such an interesting character. She is bred to be perfect, almost like a human statue, with no personality, but she can still think for herself. Those thoughts aren't really to complicated in the beginning because Ella doesn't really know how the real world works. She obviously wasn't taught that people shouldn't be kept as pets so she didn't know why people thought it was wrong.She tries to be perfect because she knows if she is anything less than perfect she'll be labeled a defect and returned to the Kennel, where she would most likely be put down.
She is brought home to become the playmate of Congressman Kimball's youngest daughter Ruby. At first she doesn't really get along with anyone else in the family except for Ruby and the Congressman. She eventually starts to form a bond with the Congressman's son, Penn, through their mutual love of music.
The relationship between Penn and Ella was really enjoyable for the most part. It did kind of develop pretty quickly. He went from hating her to falling for her a little too seamlessly. It wasn't until he saw her lose herself while playing the piano, that he was able to see her as a person and not a pet.
I wasn't really expecting the story to end the way that it did. I haven't seen it mentioned anywhere, as of yet, but the ending sets up perfectly for there to be a sequel. I feel like the story definitely needs a sequel. There is so much more we can learn about Ella and this world that she lives in.
There were some scenes in the book that, to me, seemed unnecessary, but it didn't take too much away from the story. Overall I enjoyed this book and I think you will too.