Hosted by Tynga's Reviews
Stacking The Shelves is all about sharing the books you are adding to your shelves, may it be physical or virtual. This means you can include books you buy in physical store or online, books you borrow from friends or the library, review books, gifts and of course ebooks!
Participants are to create their own Stacking the Shelves post and link bank to Tynga's Reviewsso more people can join the fun!
Posts can be laid out any way you want.
The host site posts updates on a Saturday but bloggers taking part can post any day they choose.
Visit Tynga's Reviews on a Saturday and add your link.
Visit other participants sites to find out what they have added!
---
E-Arcs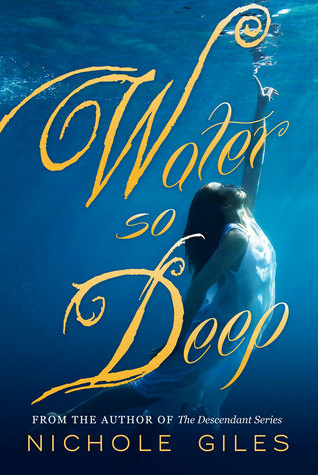 Title: Water So Deep
Author: Nichole Giles
Summary via Goodreads:
Seventeen-year-old Emma Harris is drowning on dry land.
No one knows what's happening to her, and she'd like to keep her evolution from human to mermaid a secret, but the truth is getting harder and harder to hide. From her adoptive family, from her friends, and especially from the irresistible James Phelps.
Her time in the ocean is spent dodging a possessive merman, while her time on land is split between caring for her special-needs brother and squeezing in every last possible moment of human life. She soon realizes falling for James is unavoidable when he constantly comes to Emma's rescue and somehow manages to see through her carefully constructed icy facade to the vulnerability she lives with every day. Everything about James makes Emma yearn for a life on land she just can't have.
When Emma's brother disappears on her watch, James is the only person she trusts to help her save him. But even if they can save her brother, nothing can prevent her return to the sea. Whether she likes it or not, Emma is changing—unable to breathe without yielding to the tide—and it's only a matter of time before she's forced to surrender forever.
---
Title: Haunted (The Arnaud Legacy #1)
Author: Lynn Carthage
Summary via Goodreads:
Sixteen-year-old Phoebe Irving has traded life in San Francisco for her stepfather's ancestral mansion in rural England. It's supposed to be the new start her family needs. But from the moment she crosses the threshold into the ancient estate, Phoebe senses something ominous. Then again, she's a little sensitive lately—not surprising when her parents are oblivious to her, her old life is six thousand miles away, and the only guy around is completely gorgeous but giving her mixed messages.
But at least Miles doesn't laugh at Phoebe's growing fears. And she can trust him…maybe. The locals whisper about the manor's infamous original owner, Madame Arnaud, and tell grim stories of missing children and vengeful spirits. Phoebe is determined to protect her loved ones—especially her little sister, Tabby. But even amidst the manor's dark shadows, the deepest mysteries may involve Phoebe herself…
---
What books did you add to your shelves this week?
Hope you all have a nice weekend.
Happy Reading!