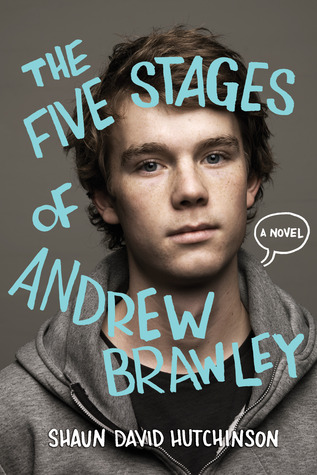 Title: The Five Stages of Andrew Brawley
Author: Shaun Hutchinson
Published by: Simon Pulse, January 20, 2015
Format/Source: E-Arc provided by the publisher via Edelweiss in exchange for an honest review.
Summary Via Goodreads: Andrew Brawley was supposed to die that night. His parents did, and so did his sister, but he survived.
Now he lives in the hospital. He serves food in the cafeteria, he hangs out with the nurses, and he sleeps in a forgotten supply closet. Drew blends in to near invisibility, hiding from his past, his guilt, and those who are trying to find him.
Then one night Rusty is wheeled into the ER, burned on half his body by hateful classmates. His agony calls out to Drew like a beacon, pulling them both together through all their pain and grief. In Rusty, Drew sees hope, happiness, and a future for both of them. A future outside the hospital, and away from their pasts.
But Drew knows that life is never that simple. Death roams the hospital, searching for Drew, and now Rusty. Drew lost his family, but he refuses to lose Rusty, too, so he's determined to make things right. He's determined to bargain, and to settle his debts once and for all.
But Death is not easily placated, and Drew's life will have to get worse before there is any chance for things to get better.
A partly graphic novel.
---
My Rating : 5 Stars
My Review:
 I had a feeling going into this book that it was going to be emotional and it certainly was. I loved this book. The characters were interesting and the story just blew me away. This is a story about heartbreak and grief, hope and love, and man it made me cry a few times. The writing was incredible and the added bonus of the story within a story graphic novel was a brilliant idea.
This is the story of Andrew and his struggle to deal with the deaths of his parents and little sister. Andrew is basically living in the hospital where they died, but nobody knows that except him. I found Andrew to be a very interesting character. Having lost a parent myself, I understood where he was coming from. I could connect with his pain and I felt for him so much. He feels so much guilt and grief and he doesn't really know what to do about it. He pours all of that into a project he calls Patient F, the subject of the graphic novel.  I really enjoyed that story within a story.
Andrew goes about his day working in the cafeteria, chatting up the nurses, and visiting his friends in the cancer ward and goes home at night to a forgotten part of the hospital where no one goes anymore, all while evading the woman he refers to as death. Everything changes when Rusty is brought into the hospital suffering from burns caused by a cruel classmates. From the moment he hears the first scream, Andrew is drawn to Rusty. Curiosity eventually turns into wanting to help him, which tuns into friendship and eventually more.
The dynamic between Rusty and Andrew was very entertaining. Between Rusty being in excruciating pain for most of this book and Andrew telling him all of his deep dark secrets, I loved their interactions. I love how Andrew slowly started to come back to life.
This book is kind of intense, but in a good way. It deals with the heavy subjects of grief and bullying. I thought the author did a very good job tackling those subjects. I spent a good part of this book just wanting to give Andrew and Rusty hugs because I think they could really have used some. I connected with this book and I am really glad I got the chance to read this one.
The writing in this book was absolutely amazing. This book turned out to be everything I wanted it to be and more. I absolutely loved this book. I highly recommend it. It is emotional and powerful. It is a beautifully heartbreaking story about grief, love, hope, hate, and most importantly, life.
---
Happy Reading!