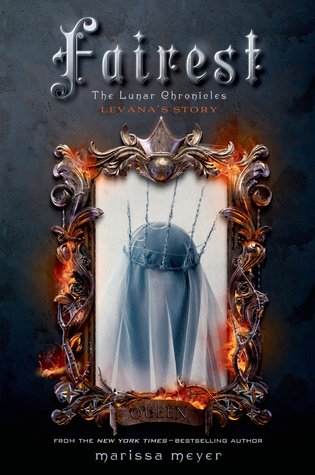 Title: Fairest
Author: Marissa Meyer
Series: The Lunar Chronicles #3.5
Published by: Feiwel & Friends – January 27, 2015
Format/Source: Hardcover purchased by me.
My Rating: 5/5 Stars
Summary via Goodreads: In this stunning bridge book between Cress and Winter in the bestselling Lunar Chronicles, Queen Levana's story is finally told.
Mirror, mirror on the wall,
Who is the fairest of them all?
Fans of the Lunar Chronicles know Queen Levana as a ruler who uses her "glamour" to gain power. But long before she crossed paths with Cinder, Scarlet, and Cress, Levana lived a very different story – a story that has never been told . . . until now.
Marissa Meyer spins yet another unforgettable tale about love and war, deceit and death. This extraordinary book includes full-color art and an excerpt from Winter, the next book in the Lunar Chronicles series.
---
 My Review:
Fairest is the story of the evil Lunar Queen Levana. It is the story of a woman who grew up with a mean, possibly crazy, sister, parents who were too wrapped up in themselves, and love for a man who did return those feelings.
Books of this nature tend to end one of two ways. You either find something redeeming in the villain or hate them more. Thanks to her background I felt like there was really no other way for Levana to be, but evil.  She has always felt like she wasn't good enough for anyone and when given the chance to prove herself, she refuses to let anyone come between her and her opportunity to become the greatest Lunar Queen ever.
Levana is one of the better villains I have ever read. The kind of villain that is evil just because she can be. She is selfish and delusional and power hungry. She does unspeakable things and feels little to no remorse or guilt.
In this book we get to find out how Winter came to be and some of her story. We also find out more about Levana's sister Channary and why Levana refuses to show her real face.  I think it will definitely be interesting to see how different our opinions will be while reading Winter now that we know more of the back story.
 The only thing I was hoping would be in this book that wasn't, was Levana's first landing on Earth. She seemed to have a sort of fascination with Earth and I thought it would have been cool to see her thoughts after she first sets foot on Earth.
I really enjoyed this book and for those who may be wondering, you should definitely read this book after Cress or you will spoil some of the story. This is definitely a story that needed to be told and fits in very well with the rest of the series. I am now trying to wait patiently for Winter. I can't wait to find out what happens next.
---
Happy Reading!