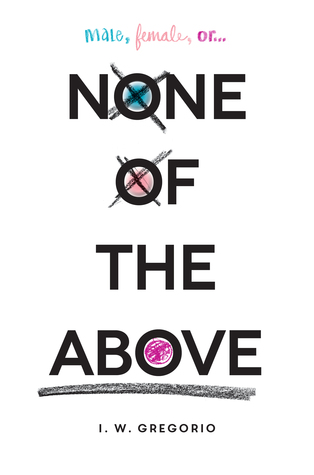 Title: None Of The Above
Author: I.W. Gregorio
Published by: Balzer + Bray, April 7, 2015
Format/Source: E-Arc provided by the publisher via Edelweiss in exchange for an honest review.
Summary via Goodreads: A groundbreaking story about a teenage girl who discovers she was born intersex . . . and what happens when her secret is revealed to the entire school. Incredibly compelling and sensitively told, None of the Above is a thought-provoking novel that explores what it means to be a boy, a girl, or something in between.
What if everything you knew about yourself changed in an instant?
When Kristin Lattimer is voted homecoming queen, it seems like another piece of her ideal life has fallen into place. She's a champion hurdler with a full scholarship to college and she's madly in love with her boyfriend. In fact, she's decided that she's ready to take things to the next level with him.
But Kristin's first time isn't the perfect moment she's planned–something is very wrong. A visit to the doctor reveals the truth: Kristin is intersex, which means that though she outwardly looks like a girl, she has male chromosomes, not to mention boy "parts."
Dealing with her body is difficult enough, but when her diagnosis is leaked to the whole school, Kristin's entire identity is thrown into question. As her world unravels, can she come to terms with her new self?
---
My Rating:
---
My Review:
Before reading this book, I had a very limited knowledge of what it meant for a person to be intersex. I had heard the term before and what it meant, but didn't really pay too close attention. This book really opened my eyes. I.W. Gregorio gives you a genuine lesson on what it means to be diagnosed with Androgen Insensitivity Syndrome without making you feel like you're being taught.
I really liked the main character, Kristin. Everything in her life seems to be falling into place. She is a athlete, has the perfect boyfriend, and then she gets voted Homecoming Queen. Then, she finds out she has Androgen Insensitivity Syndrome. She is a girl, but she has testicles in her body and not a uterus which means she'll never get pregnant. As you would expect, she is shocked by her diagnosis. It's a lot to take in for a teenager.
Her whole school finds out and naturally she starts getting teased and called some not so nice names by people who don't understand what her diagnosis actually means. This is unfortunately the kind of reaction you would expect people to have. Especially immature teenagers like her classmates and boyfriend. For the most part, I think Kristin handles all of it very well.
The author's writing style didn't necessarily blow me away, but I think it worked really well with this story. Kristin is learning about AIS from her doctor and a bunch of different people and it constantly felt like I wasn't just reading about it, but like I was listening in on their conversations.
Overall, this was a really refreshing, eye opening book. I absolutely loved it and I think everyone needs to read this book. Even if you never have to know what it means to be intersex, it will open you're eyes to what people with this condition have to go through and I think it will give everyone a little better picture of the world and some of the people in it.
---
Happy Reading!