*Book Beginnings on Friday hosted by 

Rose City Reader
*Share the first sentence (or so) of the book you are currently reading, along with your initial thoughts about the sentence, impressions of the book, or anything else the opener inspires. Please remember to include the title of the book and the author's name.
Rules:
*Grab a book, any book.
*Turn to page 56 or 56% in your eReader
(If you have to improvise, that's ok.)
 *Find any sentence, (or few, just don't spoil it) that grab you.
---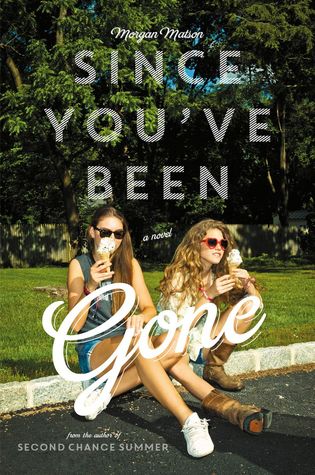 Title: Since You've Been Gone
Author: Morgan Matson
The Pre-Sloane Emily didn't go to parties, she barely talked to guys, she didn't do anything crazy. Enter Sloane, social tornado and the best kind of best friend—the one who yanks you out of your shell.
But right before what should have been an epic summer, Sloane just… disappears. No note. No calls. No texts. No Sloane. There's just a random to-do list. On it, thirteen Sloane-selected-definitely-bizarre-tasks that Emily would never try… unless they could lead back to her best friend.
Apple Picking at Night? Okay, easy enough.
Dance until Dawn? Sure. Why not?
Kiss a Stranger? Um…
Getting through Sloane's list would mean a lot of firsts. But Emily has this whole unexpected summer ahead of her, and the help of Frank Porter (totally unexpected) to check things off. Who knows what she'll find?
Go Skinny Dipping? Wait … what?
Beginning:
The list arrived after Sloane had been gone two weeks.
Page 56:
I kept the Volvo's lights off until I reached the street, even though the curtain's in my parents' study were drawn. And once I'd made it down the street without my cell lighting up with calls and texts asking me where I thought I was going, I figured that I was in the clear.
Thoughts:
I bought this for my kindle yesterday, along with the audiobook, which were both on sale. I have yet to read a book by Morgan Matson, but I now own two of them now and I have heard many good things about her books.
This one sounds really interesting. The beginning perfectly sets up the story. The 56 sounds interesting, she's obviously sneaking out of the house, probably to do something on the list.
I've heard very positive things about this book and hopefully I will be starting it soon.
---
What's on your reading schedule for this weekend? 
Thank you for reading and I hope you have a nice weekend.