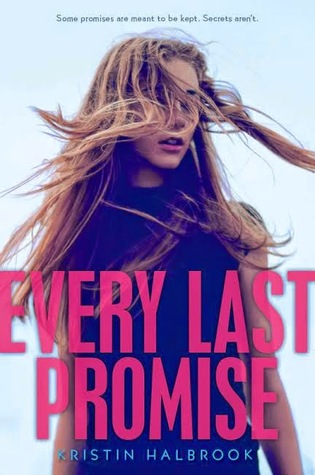 Title: Every Last Promise
Author: Kristin Halbrook
Published by: HarperTeen, April 21, 2015
Format/Source: E-Arc provided by the publisher via Edelweiss in exchange for an honest review.

Perfect for fans of Laurie Halse Anderson and Gayle Forman, Every Last Promise is a provocative and emotional novel about a girl who must decide between keeping quiet and speaking up after witnessing a classmate's sexual assault.


Kayla saw something at the party that she wasn't supposed to. But she hasn't told anyone. No one knows the real story about what happened that night—about why Kayla was driving the car that ran into a ditch after the party, about what she saw in the hours leading up to the accident, and about the promise she made to her friend Bean before she left for the summer.


Now Kayla's coming home for her senior year. If Kayla keeps quiet, she might be able to get her old life back. If she tells the truth, she risks losing everything—and everyone—she ever cared about.
---
My Rating:
---
My Review:
This book had a lot of promise. Unfortunately, I think it fell a little short. While I enjoyed the writing and the set-up of the story, I didn't particularly like the main character, or any of the other characters. This book tackles a really tough subject and I appreciate that, but it just didn't work for me.
Kayla witnesses one of her best friends being sexually assaulted at an end of the school year party. She makes a bunch of bad choices that end up having really bad consequences. She spends the summer at her aunt's house to hide from what she did, but decides to come back for her senior year.
Kayla is a small town girl. While everyone around her can't wait to leave town and see the world, she wants nothing more than for things to stay the way they are. So, when she returns, she does what she has to for things to go back the way they were. The only problem is that nothing will ever be the same.
I didn't like Kayla, mostly because half of her inner dialogue was about her guilt and how bad she felt, but never about trying to do the right thing. She tries to go on as if nothing happened and I really didn't like her because of it. She should have done the right thing and told the police what really happened, instead of trying to pretend it didn't.
I wasn't a big fan of how this book ended. It seemed very open-ended to me. This book is on the shorter end, so I should have expected it. The ending mostly left me frustrated and slightly annoyed.
I did enjoy the writing and I wouldn't say I was bored at any point reading this. I would actually recommend this book, because it tells a very important story that many people could actually learn from. I think there are a lot of people who would really like this story, I just didn't happen to be one of them.
---
Happy Reading!