*Book Beginnings on Friday hosted by Rose City Reader
*Share the first sentence (or so) of the book you are currently reading, along with your initial thoughts about the sentence, impressions of the book, or anything else the opener inspires. Please remember to include the title of the book and the author's name.
Rules:
*Grab a book, any book.
*Turn to page 56 or 56% in your eReader
(If you have to improvise, that's ok.)
 *Find any sentence, (or few, just don't spoil it) that grab you.
---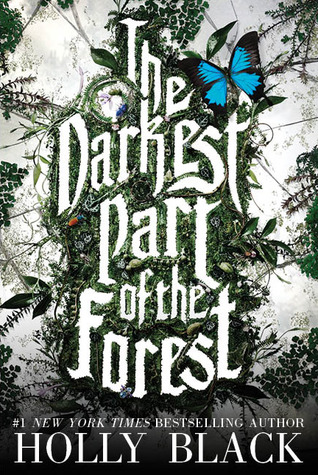 Title: The Darkest Part of the Forest
Author: Holly Black
Children can have a cruel, absolute sense of justice. Children can kill a monster and feel quite proud of themselves. A girl can look at her brother and believe they're destined to be a knight and a bard who battle evil. She can believe she's found the thing she's been made for.
Hazel lives with her brother, Ben, in the strange town of Fairfold where humans and fae exist side by side. The faeries' seemingly harmless magic attracts tourists, but Hazel knows how dangerous they can be, and she knows how to stop them. Or she did, once.
At the center of it all, there is a glass coffin in the woods. It rests right on the ground and in it sleeps a boy with horns on his head and ears as pointed as knives. Hazel and Ben were both in love with him as children. The boy has slept there for generations, never waking.
Until one day, he does…
As the world turns upside down, Hazel tries to remember her years pretending to be a knight. But swept up in new love, shifting loyalties, and the fresh sting of betrayal, will it be enough?
Beginning:
Down a path worn into the woods, past a stream and a hollowed-out log full of pill bugs and termites, was a glass coffin. It rested right on the ground, and in it slept a boy with horns on his head and ears pointed as knives.
Page 56:
They ran and ran until they managed to wedge themselves in the hollow of an oak tree, where they hid, hearts thumping, breaths held, listening for the sweep of a tail or the pad of a heavy step.
Thoughts:
I've been wanting to get this book for a while and finally picked up a copy last week. I will hopefully be starting it soon. So far, it sounds very exciting. The only other book I've read by Holly Black was The Coldest Girl In Coldtown, which I really enjoyed. Also, the cover of this book is even prettier in person.
---
What's on your reading schedule for this weekend? 
Thank you for reading and I hope you have a nice weekend.