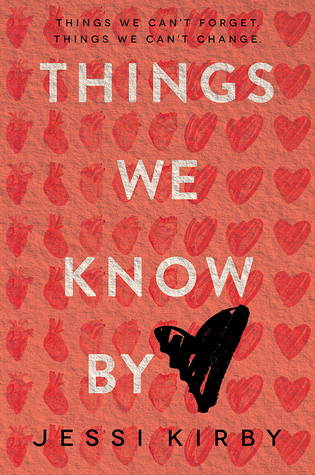 Title: Things We Know By Heart
Author: Jessi Kirby
Published by: HarperTeen, April 21, 2015
Format/Source: E-Arc provided by the publisher via Edelweiss in exchange for an honest review.
When Quinn Sullivan meets the recipient of her boyfriend's donated heart, the two form an unexpected connection.
After Quinn loses her boyfriend, Trent, in an accident their junior year, she reaches out to the recipients of his donated organs in hopes of picking up the pieces of her now-unrecognizable life. She hears back from some of them, but the person who received Trent's heart has remained silent. The essence of a person, she has always believed, is in the heart. If she finds Trent's, then maybe she can have peace once and for all.
Risking everything in order to finally lay her memories to rest, Quinn goes outside the system to track down nineteen-year-old Colton Thomas—a guy whose life has been forever changed by this priceless gift. But what starts as an accidental run-in quickly develops into more, sparking an undeniable attraction. She doesn't want to give in to it—especially since he has no idea how they're connected—but their time together has made Quinn feel alive again. No matter how hard she's falling for Colton, each beat of his heart reminds her of all she's lost…and all that remains at stake.
My Rating:
My Review:
My overall thought about this book is that it was just okay. There were certain parts that just frustrated me and left me disappointed and shaking my head. The writing, however, is really beautiful and this book features a lot of quotable passages.
Quinn loses her boyfriend Trent in an accident and his parents decide to donate his organs. Quinn writes letters, along with Trent's parents, to the recipients and all but one answer the letters and agree to meet. The only one who doesn't answer is the young man who received Trent's heart. Quinn feels like she can't truly move on until she meets the young man, so she spends the next year searching and obsessing over finding him.
Thanks to a blog run by his sister, Quinn discovers Colton Thomas, the nineteen year old surfer dude who got a second chance at life thanks to Trent's heart. Instead of being content with knowing that he's doing okay, Quinn has to see for herself, even if it means breaking the rules. What starts out as just wanting to see him turns into unintentionaly meeting him and interacting with him.
And this is where Quinn's guilt kicks in. A whole bunch of this book is about how guilty Quinn feels. Guilty for meeting Colton, when she wasn't supposed to, for continuing to interact with him, for having feelings for someone other than Trent, and of course for not telling Colton who she really is. I may or may not have constantly been yelling in my head that if she would just tell him the truth, or actually left him alone, like she kept saying she was going to, maybe she wouldn't have felt so much guilt.
I was put-off by Quinn's family. It seemed to me like they just left her alone for a year and were just hoping she would figure out how to move on by herself. They just let her obsess over Trent's heart and it bothered me that they didn't seem to really even be try to help her move on.
My other big problem with this book was Quinn. Like I said before, her guilt really started to annoy me. She had so many opportunities to tell Colton the truth and she didn't until the end of the book. And when Colton finds out who she really is, in my opinion, he gets over it way too fast. He doesn't even once question if her feeling are real or if she only got close to him because he has Trent's heart. The fact that it didn't even seem to cross his mind once, really annoyed me.
I do like that they have a hopeful, happy ending but, I really couldn't bring myself to get over how the relationship started and how she was lying to him the whole time.
Despite all of that, I wouldn't say that I hated the book. I can imagine a whole bunch of people will be able to overlook all of that stuff and really enjoy this book, so if it sounds interesting to you, go for it.
---
Happy Reading!