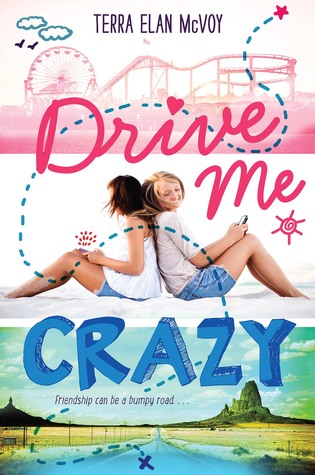 Title: Drive Me Crazy
Author: Terra Elan McVoy
Published by: Katherine Tegen Books, April 28, 2015
Format/Source: E-Arc provided by the publisher via Edelweiss in exchange for an honest review.
Lana and Cassie have met only once before, at the wedding of Lana's Grandpa Howe and Cassie's Grandma Tess two months ago. They didn't exactly hit it off—in fact, depending on who you ask, that first meeting was either an embarrassment or a disaster—but they're about to spend an entire week together, just the two of them and their honeymooning grandparents, road-tripping in Cassie's grandmother's Subaru.
Lana thinks a summer road trip sounds like fun, but the backseat is a crowded place for two tween girls with two huge secrets to hide, and this bumpy road to friendship is full of unexpected twists and turns. Like it or not, they're in this together, full speed ahead on the adventure of a lifetime.
My Rating:
My Review:
Drive Me Crazy is a really cute, really sweet middle grade story about two young girls on a road trip with their grandparents.  This is a perfect book for younger readers.  I think a lot of adults, like myself, could find a place in their heart for this book. I think most of us have been through the things these girls are dealing with. This book is really adorable and it totally made me smile.
Lana's Grandpa Howe and Cassie's Grandma Tess recently got married and are getting ready to go on a week long road trip for their honeymoon. They decide to bring the two girls along for the ride. Lana is excited about the trip, but is distracted by things happening at home. Cassie feels like being away form her friends is the worst thing in the world.
When Lana and Cassie first meet at the wedding, it doesn't go all that well. Lana instantly wants to be Cassie's best friend and is kind of fascinated by her. Cassie doesn't really want anything to do with Lana, so a road trip is the last thing she wants to do with her summer.
Cassie wasn't my favorite character. she acted like a soiled brat for a big chunk of the book. She recently got into the popular crowd and she feels like being away from them for a week is the worst thing in the world. At such a young age, I'm sure that's what it feels like. During the trip Cassie is constantly on her phone and tries to ignore Lana. I do really appreciate the growth she goes through in the story.
Lana was an interesting character. She doesn't come from money, like Lana, so she is fascinated by all of the fancy hotels they stay at while on the trip. She thinks Lana is the coolest person and is really trying to get to know her, but Lana is not making it easy. Like Lana, she is dealing with a distraction at home, she really learns a lot about life while on the trip.
I really enjoyed the progression of the relationship between Lana and Cassie. They are both really similar, but it takes them a while to realize it. They fight and they bond and ultimately they both learn so much from each other. In the end, they really start to appreciate each other and it was the sweetest thing.
I loved the Grandparents. They were seriously the cutest people. They were so in love and really sweet together. I really liked that they wanted to include the girls on their trip, it gave them all a chance to bond and to spend quality time together.
This is a really beautiful coming-of-age type story that a lot of young readers would absolutely love. The writing was beautiful and I really enjoyed the road trip setting of the book. It made the book seem kind of magical. I highly recommend this book to younger readers and to anyone looking for a story with laughs and smiles and best friends.
---
Happy Reading!