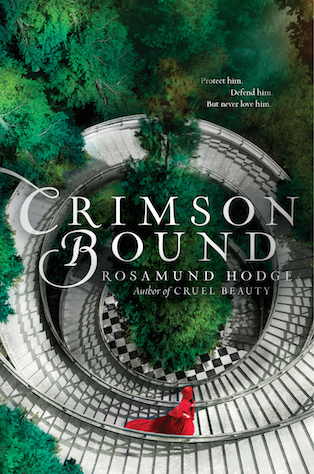 Title: Crimson Bound
Author: Rosamund Hodge
Published by: Balzeer + Bray, May 5, 2015
Format/Source: E-Arc provided by the publisher via Edelweiss in exchange for an honest review.
When Rachelle was fifteen she was good—apprenticed to her aunt and in training to protect her village from dark magic. But she was also reckless— straying from the forest path in search of a way to free her world from the threat of eternal darkness. After an illicit meeting goes dreadfully wrong, Rachelle is forced to make a terrible choice that binds her to the very evil she had hoped to defeat.
Three years later, Rachelle has given her life to serving the realm, fighting deadly creatures in an effort to atone. When the king orders her to guard his son Armand—the man she hates most—Rachelle forces Armand to help her find the legendary sword that might save their world. As the two become unexpected allies, they uncover far-reaching conspiracies, hidden magic, and a love that may be their undoing. In a palace built on unbelievable wealth and dangerous secrets, can Rachelle discover the truth and stop the fall of endless night?
Inspired by the classic fairy tale Little Red Riding Hood, Crimson Bound is an exhilarating tale of darkness, love, and redemption.
My Rating:
My Review:
After recently reading Cruel Beauty and loving it, I had pretty high hopes for Crimson Bound. I am becoming a huge fan of Rosamund Hodge and the brilliant person that creates her beautiful book covers. Crimson Bound was a very compelling story about consequences and redemption. It started a little slowly. but ended brilliantly and features beautiful writing, a really interesting story, a really cool setting, and a kick ass main character.
One of the things I liked most about this book was that the romance aspect wasn't as up front as it was in Cruel Beauty, which worked out very well for this story. Rachelle is on a mission to save the people and herself and she doesn't have time for romance. She spends most of this book looking for a mythical sword that will free her and her people from the Great Forest and the monsters living there, namely, the Devourer.
I really liked Rachelle. After the first chapter, I wasn't sure about her, but the more I read, the more invested I became. She is tough, but she, like so many other great characters, is flawed. She has done terrible things and in trying to silence her guilt, she sets about to help others the only way she knows how.
Rachelle is forced to protect and watch over Armand, the King's son, and she is not happy. Armand is someone she hates. There is a reason for this, you'll find out if you read the book. Basically, he reminds her of the bad things that she's done and he stands in her way of finding the sword that will defeat the Devourer. Somewhere along the way they start to form a bond, they become friendly and he offers to help her find the sword.
There are some twists and turns in this book and it was a pretty good thrill ride, especially the last 20% or so. I really enjoyed how the story ended. I was on the edge of my seat waiting to see what was going to happen next.
As far as the Little Red Riding Hood inspiration, I feel like it was more symbolic. In Cruel Beauty, the inspiration is definitely more obvious. It's been a long time since I actually read or watched Little Red Riding Hood, but I believe the message of that story was, when walking through the woods don't talk to strangers. That is one of the main messages in this book. Rachelle is told not to talk to the Forest people on her way to her Aunt's house, but she does and the book follows her along as she faces the consequences of her actions.
I really enjoy Rosamund Hodge's writing and how she creates these stories. I can't wait to see what she is going to come up with next. If you enjoyed Cruel Beauty, or even if you didn't, I would definitely recommend this book.
---
Happy Reading!