*Book Beginnings on Friday hosted by Rose City Reader
*Share the first sentence (or so) of the book you are currently reading, along with your initial thoughts about the sentence, impressions of the book, or anything else the opener inspires. Please remember to include the title of the book and the author's name.
Rules:
*Grab a book, any book.
*Turn to page 56 or 56% in your eReader
(If you have to improvise, that's ok.)
 *Find any sentence, (or few, just don't spoil it) that grab you.
---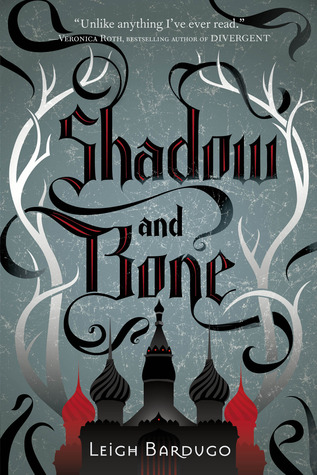 Title: Shadow and Bone
Author: Leigh Bardugo
Series: The Grisha #1
Surrounded by enemies, the once-great nation of Ravka has been torn in two by the Shadow Fold, a swath of near impenetrable darkness crawling with monsters who feast on human flesh. Now its fate may rest on the shoulders of one lonely refugee.
Alina Starkov has never been good at anything. But when her regiment is attacked on the Fold and her best friend is brutally injured, Alina reveals a dormant power that saves his life—a power that could be the key to setting her war-ravaged country free. Wrenched from everything she knows, Alina is whisked away to the royal court to be trained as a member of the Grisha, the magical elite led by the mysterious Darkling.
Yet nothing in this lavish world is what it seems. With darkness looming and an entire kingdom depending on her untamed power, Alina will have to confront the secrets of the Grisha . . . and the secrets of her heart.
Beginning:
Standing on the edge of a crowded road, I looked down onto the rolling fields and abandoned farms of the Tula Valley and got my first glimpse of the Shadow Fold.
Page 56

:
I felt an icy tumble of panic. What was happening to me? I thought about just throwing open the coach door and making a run for it. But where would I run? We were surrounded by armed men in the middle of a military camp. And even if we weren't, where could I possibly go?
Thoughts

:
This is another series that I've been meaning to start. I now own all three books in the series, so maybe I'll actually start this one soon. I've heard a lot of really good things about this book and the next two. It sounds like a really interesting story and I'm excited to start it soon.
---
What's on your reading schedule for this weekend? 
I hope you have a nice weekend.
Happy Reading!