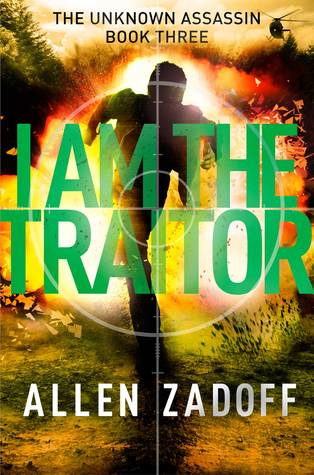 Title: I Am The Traitor
Author: Allen Zadoff
Series: The Unknown Assassin #3
Published by: Little, Brown Books for Young Readers, June 9, 2015
Format/Source: E-Arc provided by the publisher via Netgalley in exchange for an honest review.
My Rating: 4 Stars
In the third and final installment in the Unknown Assassin trilogy, Boy Nobody is on the run from The Program and uncovers a secret about his past that forces him to decide where his loyalties lie.
The Program has sent Boy Nobody on countless missions, instructed to kill whichever target he was given. But now, after going rogue, he is on his own mission to rescue his friend Howard who was captured by The Program. Boy Nobody manages to free Howard as well as Tanya, a mysterious girl who was being held with him. Howard and Tanya help Boy Nobody collect information about his father, eventually revealing a dangerous secret that teaches Boy Nobody a valuable lesson — he can't trust anyone.
Allen Zadoff packs the third book of the Unknown Assassin series with even more action, higher stakes, and mind-blowing reveals that will leave readers riveted.
As far as final books in a series go, this one is pretty good. This is a series I have loved from the beginning and I'm definitely sad that it's over. In this third and final book in the Unknown Assassin series, we finally get answers and events from the previous two books start to make a whole lot of sense. Even though I am sad that it had to end, I'm actually really satisfied with how the series ended.
Starting with book one, the main character starts to question everything he's been told and taught and that all comes to fruition in book three. At the end of book two he is told a secret and then told it was a lie and sets out to figure out the truth, once and for all. He also has to deal with finding Howard, his unlikely friend from book two, and Tonya, who may not be all that she seems.
One of the things I love most about this series, is all of the action. These books are action packed and non-stop, which makes these books really quick reads. Some of the action scenes and fights were a little over the top, but it didn't really matter to me, it was very exciting.
I really enjoyed how the story was wrapped up. Boy Nobody finally learns the truth about how he got to be in his situation and the person truly responsible. I feel that the story ends in a really good place, that gives me hope that even though we don't get a glimpse into the future, that everyone in the story is in a good place and happy.
If you like action books with a bit of mystery and spies, I highly recommend this series. These books were fantastic and I really wish there were more books in the series, but overall, I am very satisfied with the entire series and I'm so glad I got the chance to read them.
---
Happy Reading!