*Book Beginnings on Friday hosted by Rose City Reader
*Share the first sentence (or so) of the book you are currently reading, along with your initial thoughts about the sentence, impressions of the book, or anything else the opener inspires. Please remember to include the title of the book and the author's name.
Rules:
*Grab a book, any book.
*Turn to page 56 or 56% in your eReader
(If you have to improvise, that's ok.)
 *Find any sentence, (or few, just don't spoil it) that grab you.
---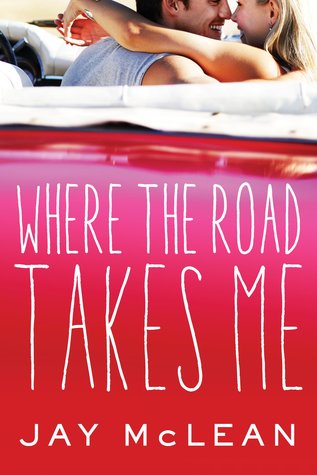 Title: Where The Road Takes Me
Author: Jay McLean
Published by: Skyscape, February 10, 2015
Chloe has one plan for the future, and one plan only: the road. She's made a promise to herself: don't let anyone in, and don't let anyone love her. She's learned the hard way what happens if she breaks her rules. So she's focused on being invisible and waiting until she can set out on the road—her dream of freedom, at least for a little while.
Blake Hunter is a basketball star who has it all—everything about him looks perfect to those on the other side of his protective walls. He can't let anyone see the shattered pieces behind the flawless facade or else all his hopes and dreams will disappear.
One dark night throws Chloe and Blake together, changing everything for Blake. For Chloe, nothing changes: she has the road, and she's focused on it. But when the so-called perfect boy starts to notice the invisible girl, they discover that sometimes with love, no one knows where the road may lead.
Beginning

:
You know how sometimes you can tell that something is about to happen, even though there are no physical signs? Like when the hair on the back of your neck stands up, or your palms begin to sweat, or butterflies form in your stomach?
Page 56

:
What I was surrounded by was an uncertain future. One in which I couldn't muster the courage to have hopes and dreams. Because I knew they were unattainable. That part-I could live with.
But what I hated about the uncertainty was my inability to form meaningful relationships.
Thoughts

:
I was browsing Amazon and saw this cover and I had to know what it was about. It sounds to me like there is something wrong with our main character, probably some illness, I'm guessing. It sounds really interesting and I already love the writing.
---
What's on your reading schedule for this weekend? 
I hope you have a nice weekend.
Happy Reading!