*Book Beginnings on Friday hosted by Rose City Reader
*Share the first sentence (or so) of the book you are currently reading, along with your initial thoughts about the sentence, impressions of the book, or anything else the opener inspires. Please remember to include the title of the book and the author's name.
~
Rules:
*Grab a book, any book.
*Turn to page 56 or 56% in your eReader
(If you have to improvise, that's ok.)
 *Find any sentence, (or few, just don't spoil it) that grab you.
---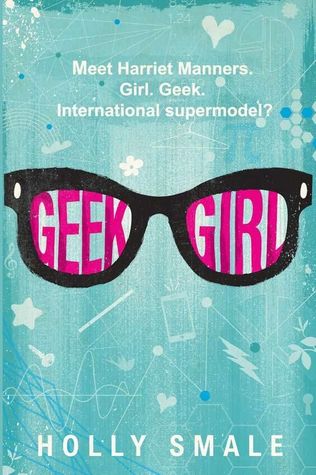 Title: Geek Girl
Author: Holly Smale
Series: Geek Girl #1
Harriet Manners knows a lot of things.
She knows that a cat has 32 muscles in each ear, a "jiffy" lasts 1/100th of a second, and the average person laughs 15 times per day. What she isn't quite so sure about is why nobody at school seems to like her very much. So when she's spotted by a top model agent, Harriet grabs the chance to reinvent herself. Even if it means stealing her Best Friend's dream, incurring the wrath of her arch enemy Alexa, and repeatedly humiliating herself in front of the impossibly handsome supermodel Nick. Even if it means lying to the people she loves.
As Harriet veers from one couture disaster to the next with the help of her overly enthusiastic father and her uber-geeky stalker, Toby, she begins to realize that the world of fashion doesn't seem to like her any more than the real world did.
And as her old life starts to fall apart, the question is: will Harriet be able to transform herself before she ruins everything?
Beginning:
My name is Harriet Manners, and I am a geek.
Page 56-57:
Hiding under the table probably isn't the best impromptu decision I've ever made, but it's the only one I can think of. Which is a problem.
First of all, because Wilbur knows I'm here. He just saw me drop to my knees and crawl away. Second, because the tablecloth doesn't quite reach the floor. And third, because there's already somebody else under here.
Thoughts:
I've been hearing a lot about this book lately, both good and not so great. I've been meaning to get this book for a while and it finally went on sale for kindle. It's got some mixed reviews, but it sounds like the kind of book I would enjoy and should be good for some laughs.
---
What's on your reading schedule for this weekend? 
I hope you have a nice weekend.
Happy Reading!