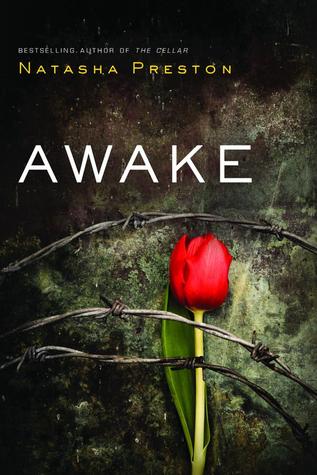 Title: Awake
Author: Natasha Preston
Published by: Sourcebooks Fire; August 4, 2015
Format/Source: E-Arc provided by the publisher via Netgalley in exchange for an honest review.
Rating: 2 Stars
Scarlett doesn't remember anything before the age of five. Her parents say it's from the trauma of seeing her house burn down, and she accepts the life they've created for her without question—until a car accident causes Scarlett to start remembering pieces of an unfamiliar past.
When a new guy moves into town, Scarlett feels an instant spark. But Noah knows the truth of Scarlett's past, and he's determined to shield her from it…because Scarlett grew up in a cult called Eternal Light, controlled by her biological parents.
And they want her back.
Review:
 I kind of hated this book. I found it to be very disturbing and just wrong, on so many levels. I've never been one to shy away from difficult subject matter, but this book actually made me cringe, multiple times. The writing wasn't anything special and I'm just glad it was on the shorter side.
I didn't connect with Scarlett. In the beginning, there wasn't really anything, specifically wrong with her, I just didn't connect with her. Towards the end she really started to annoy me with the all of the stupid decisions she makes, and by the time the books ended, I pretty much completely hated her.
I hated Noah form the very beginning. I was suspicious of him right from the start and boy did he turn out to be the worst person ever. His whole story line in this book disgusted me. His actions toward Scarlett, were pretty much criminal and could probably be described as predatory, and the fact that he was given a chance at redemption made me want to throw something.
The relationship between Scarlett and Noah was wrong on so many levels. The insta-love was insane and bordered on obsession, and the fact that it was meant to be that way plot-wise, didn't make me hate it any less. They way their relationship ends up at the end of the book was horrible. The entire relationship was horrible and disturbing, especially after the truth about Noah comes to light.
The cult aspect of this book, which was a good chunk of it, really disturbed me. It was incredibly creep and made me sick to my stomach at times. I'm not sure I ever want to read a book dealing with a cult, ever again.
This books was just plain creepy and the ending was really predictable. I really do not recommend this book to anyone.
---
Happy Reading!