To play along, just answer the following three (3) questions…
*What are you currently reading?
*What did you recently finish reading?
*What do you think you'll read next?
---
 1. What are you currently reading?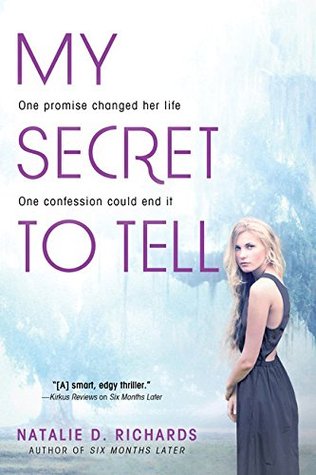 – I just started My Secret To Tell by Natalie D. Richards. It's my 14th book for ARC August and I'm starting to think I might actually be able to beat my total books read from last month, which was 20.
2. What did you recently finish reading?
– Violent Ends is the story of a school shooting, but with a focus on the shooter instead of the shooting. It's told by 17 different authors, who manage to create one, very unique story and I absolutely loved it. It's very intense and very dark at times, but it was an incredible story and I highly recommend it.
 – Cut Both Ways by Carrie Mesrobian was, in my opinion, not a very good book. There wasn't really a point to this book, there was no plot, whatsoever, and the story didn't have any kind of a resolution either. And on top of that, it was pretty boring and I hated the main character.
 – Mirrored by Alex Flinn was okay, but it was a bit of a let down from Bewitching, which I really enjoyed. It starts with the villain, Violet, and how she becomes evil. I felt so bad for her that it messed up the rest of the story, because I knew I was supposed to hate her, but I didn't and I didn't really connect with Celine, who is supposed to be the heroine. I appreciated that the hero of the story was not the conventional book hero.
– Are You Still There by Sarah Lynn Scheerger is a story about a school that is dealing with the aftermath of a bomb threat that included an actual bomb. It was okay. It started out kind of slow, but picked up a lot in the end. I just felt like it was missing something and it focused a little too much on the romance and there were parts of the story that seemed to not have a purpose.
 – Blood and Salt by Kim Liggett was seriously creepy and totally awesome. This is a book that I was very much looking forward too and I absolutely loved it. I was sucked in from the very first line. I was able to predict some of the story, but overall, I was very impressed by this story and can't wait to read more from this author.
 – What We Saw by Aaron Hartzler is about a girl who claims to have been raped at a party hosted by one of the stars of the basketball team and the aftermath of 4 of the team's players getting arrested. This book was incredibly realistic. It's based on a true story and it's one of those books you can see happening in real life. The victim shaming. slut shaming, most of the school assuming she's lying or did it on purpose, or everyone's favorite. "she was asking for it." This book was intense and powerful and it totally blew me away.
 – Dreamland by Robert Anderson was an interesting book, but just okay. The first half and the second half of the book are like reading two different books. I wanted more of what happened in the second half. I wanted to know more about Dea's backstory and the actual dreamland part of the story. There was a lot of potential story lines in this book that were ignored and the romance was a little too present for this story. The mystery part of the book didn't really feel like it needed to be part of the story.
 – The Unquiet by Mikaela Everett was kind of a disappointment. The concept was incredible, as was the world building, but it felt like this book was longer than it actually was. This book really could have done with about 100 less pages. I didn't fully connect with the main character, but I like how her story wrapped up.
3. What do you think you'll read next?
– Up next for ARC August will be A Madness So Discreet by Mindy McGinnis and Walk on Earth a Stranger by Rae Carson.
---
Thank you for stopping by! 
Happy Reading!