*Book Beginnings on Friday hosted by Rose City Reader
*Share the first sentence (or so) of the book you are currently reading, along with your initial thoughts about the sentence, impressions of the book, or anything else the opener inspires. Please remember to include the title of the book and the author's name.
~
Rules:
*Grab a book, any book.
*Turn to page 56 or 56% in your eReader
(If you have to improvise, that's ok.)
 *Find any sentence, (or few, just don't spoil it) that grab you.
---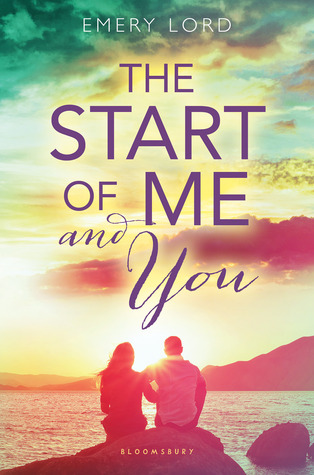 Title: The Start of Me and You
Author: Emery Lord
Published by: Bloomsbury; March 31, 2015
Brimming with heartfelt relationships and authentic high-school dynamics The Start of Me and You proves that it's never too late for second chances.
It's been a year since it happened—when Paige Hancock's first boyfriend died in an accident. After shutting out the world for two years, Paige is finally ready for a second chance at high school . . . and she has a plan. First: Get her old crush, Ryan Chase, to date her—the perfect way to convince everyone she's back to normal. Next: Join a club—simple, it's high school after all. But when Ryan's sweet, nerdy cousin, Max, moves to town and recruits Paige for the Quiz Bowl team (of all things!) her perfect plan is thrown for a serious loop. Will Paige be able to face her fears and finally open herself up to the life she was meant to live?
---
Beginning:
Of all the places to have something memorable happen to you, Oakhurst, Indiana, had to be one of the worst.
Page 56:
"Whatever," she said, shaking her head. "Tell me what's going on."
I took a deep breath. "My parents are dating."
She pursed her lips. "That's okay, right? I mean, they've been divorced for a long time now. You had to figure that they would eventually start-"
I held up my hand to stop her, as my mother had done to me just minutes before. Stringing together the next sentence was like jamming mismatched puzzle pieces together-forced and awkward and wrong.
"My parents are dating each other."
Thoughts:
I have yet to read an Emery Lord book, but I have heard so many wonderful things. I've heard a lot of good things about this book and I'm excited to read it, probably sometime next month. The two snippets are interesting. I'm curious about the situation with her parents, it sounds like a pretty weird situation. I'm definitely looking forward to seeing how her plan works out.
---
What's on your reading schedule for this weekend? Let me know in the comments.
I hope you have a nice weekend! Happy Reading!