*Book Beginnings on Friday hosted by Rose City Reader
*Share the first sentence (or so) of the book you are currently reading, along with your initial thoughts about the sentence, impressions of the book, or anything else the opener inspires. Please remember to include the title of the book and the author's name.
~
Rules:
*Grab a book, any book.
*Turn to page 56 or 56% in your eReader
(If you have to improvise, that's ok.)
 *Find any sentence, (or few, just don't spoil it) that grab you.
---
Title: Map To The Stars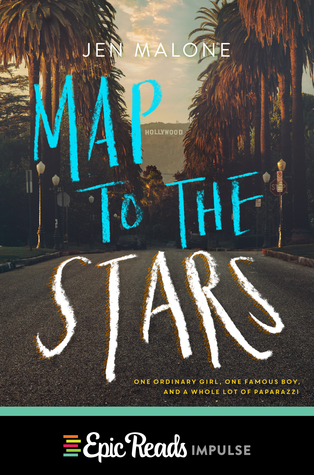 Author: Jen Malone
Author Jen Malone draws on her real-life experiences as a movie studio publicist to bring you an insider peek at love, Hollywood-style.
The California dream was supposed to give seventeen-year-old Annie Shelton a fresh start far removed from her dad's unusual betrayal. But when things don't go according to plan in La La Land, Annie's mom snags a last-minute gig as makeup artist to a teen movie idol and finagles a spot for her daughter on his European promotional tour.
Down-to-earth Annie would rather fangirl architectural sights than an arrogant A-lister. That is, until behind-the-scenes Graham Cabot turns out to be more sweetly vulnerable than she could have imagined.
Too bad falling for a poster boy isn't all red carpets and star treatment, especially when you factor in obnoxious fans, an overprotective assistant, a stage mom/manager, and a beefy bodyguard.
But it isn't until the paparazzi make an appearance that things get really sticky…
Beginning:
I never dreamed my first encounter with an A-list movie star would include hairy feet and a bowl full of tiny fish.
56%:
"Okay, here's the plan. I'll go grab Roddy and transform myself into Joe Nobody and you go get what you need and let your mom know. We'll meet in the lobby in twenty."
"Okay," I answered, with some hesitation. I wasn't sure Graham in a lobby mere feet away from a mob of screaming fans was the best scenario for an afternoon on the town.
But I was starting to trust him.
Thoughts:
I got this book because it looks totally awesome. I have a soft spot for these kinds of stories, the movie star and the girl next door. And this one looks like it's going to be totally adorable. I'm really looking forward to reading this one, probably next month. The two little snippets are awesome. I kind of love that beginning.
---
What's on your reading schedule for this weekend? 
I hope you have a nice weekend.
Happy Reading!