*Book Beginnings on Friday hosted by Rose City Reader
*Share the first sentence (or so) of the book you are currently reading, along with your initial thoughts about the sentence, impressions of the book, or anything else the opener inspires. Please remember to include the title of the book and the author's name.
~
Rules:
*Grab a book, any book.
*Turn to page 56 or 56% in your eReader
(If you have to improvise, that's ok.)
 *Find any sentence, (or few, just don't spoil it) that grab you.
---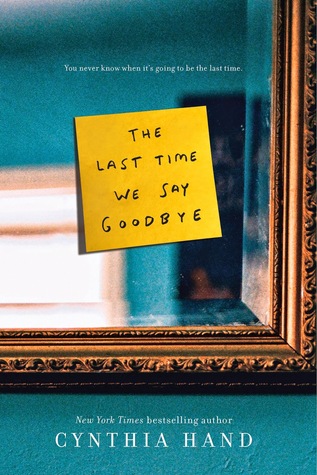 Title: The Last Time We Say Goodbye
Author: Cynthia Hand
There's death all around us.
We just don't pay attention.
Until we do.
.
The last time Lex was happy, it was before. When she had a family that was whole. A boyfriend she loved. Friends who didn't look at her like she might break down at any moment.
Now she's just the girl whose brother killed himself. And it feels like that's all she'll ever be.
As Lex starts to put her life back together, she tries to block out what happened the night Tyler died. But there's a secret she hasn't told anyone-a text Tyler sent, that could have changed everything.
Lex's brother is gone. But Lex is about to discover that a ghost doesn't have to be real to keep you from moving on.
Beginning:
Mom is crying again this morning. She does this thing where it's like a faucet gets turned on inside her at random times.
56%:
The whites of my eyes look like road maps, veiny and red-rimmed and swollen, like I've been crying, even though I haven't been crying.
I look wrecked.
This whole thing has warped me, I think. I'm a board left out in the rain, and it's impossible to go back to being straight and undamaged ever again. This is who I am now.
The girl whose brother died.
Thoughts:
I had been eyeing this book for a while and the kindle version went on sale, so I finally bought it. I have seen so many amazing reviews for this book and I'm excited to read it soon. Based on the snippets, I'm expecting a very emotional book, but it sounds really good.
---
What's on your reading schedule for this weekend? 
I hope you have a nice weekend.
Happy Reading!