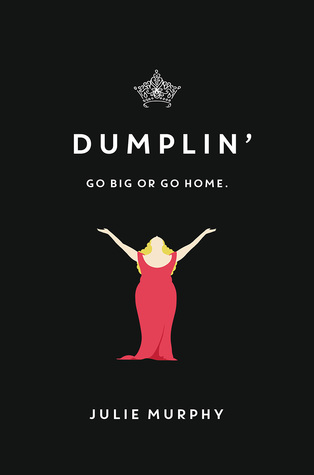 Title: Dumplin'
Author: Julie Murphy
Published by: Balzer + Bray; September 15, 2015
Format/Source: E-Arc provided by the publisher via Edelweiss in exchange for an honest review.
Rating: 4 Stars
Self-proclaimed fat girl Willowdean Dickson (dubbed "Dumplin'" by her former beauty queen mom) has always been at home in her own skin. Her thoughts on having the ultimate bikini body? Put a bikini on your body. With her all-American beauty best friend, Ellen, by her side, things have always worked . . . until Will takes a job at Harpy's, the local fast-food joint. There she meets Private School Bo, a hot former jock. Will isn't surprised to find herself attracted to Bo. But she is surprised when he seems to like her back.
Instead of finding new heights of self-assurance in her relationship with Bo, Will starts to doubt herself. So she sets out to take back her confidence by doing the most horrifying thing she can imagine: entering the Miss Clover City beauty pageant—along with several other unlikely candidates—to show the world that she deserves to be up there as much as any twiggy girl does. Along the way, she'll shock the hell out of Clover City—and maybe herself most of all.
With starry Texas nights, red candy suckers, Dolly Parton songs, and a wildly unforgettable heroine— Dumplin' is guaranteed to steal your heart.
Review:
This is one of those stories that I connected with on a personal level. I was very much looking forward to this book and it did not disappoint. Dumplin' is a very real and honest story and I enjoyed it very much.
Willowdean is trying to spend the summer before her junior year as any teenager would. She works nights at a fast food joint, while crushing on her hot co-worker Bo, spending her free time with her best friend Ellen, and avoiding all things beauty pageant.
I loved the relationship between Willow and Ellen and especially their mutual love of Dolly Parton. They are going through something I expect most friendships go through. They are at different places in their lives and it starts to drive them apart. I loved their friendship and I was kind of sad that they were fighting, but I love how they were able to talk and work out their problems because they obviously loved and cared about each other.
She's always accepted herself and her body. She doesn't get why it's such a problem for other people, but she never expected someone like Bo, a former jock and super cute,  to want to be with someone like her. But then he actually seems to share her feelings.  As I expected,  she starts to become insecure about her body, specifically about him touching her body. She worries that when he touches her, he can feel all of her fat and she's afraid it will repulse him. Then it starts to seem like Bo is keeping her a secret from his family and friends and she calls him out on it. I was very pleased with how their relationship progressed and grew, especially after their big argument. Overall, I loved them as individuals and as a couple.
She feels out of whack and decides that the only way to fix it is to enter the Miss Clover City beauty pageant, that is run by her mom, the former beauty queen. She and her mom don't have the best relationship, so she immediately accuses Willowdean of trying to make her look bad, as if the whole pageant is a joke. I loved the fights between Willow and her mom. They reminded me of my mom and how much I miss the stupid fights we used to have.
I really connected with this book and especially with this character, but I can understand how she might not be for everyone. I loved how this book ended. It put the biggest smile on my face and overall, I really enjoyed this boook and would most definitely recommend it.
---
Happy Reading!