*Book Beginnings on Friday hosted by 

Rose City Reader
*Share the first sentence (or so) of the book you are currently reading, along with your initial thoughts about the sentence, impressions of the book, or anything else the opener inspires. Please remember to include the title of the book and the author's name.
~
Rules:
*Grab a book, any book.
*Turn to page 56 or 56% in your eReader
(If you have to improvise, that's ok.)
 *Find any sentence, (or few, just don't spoil it) that grab you.
---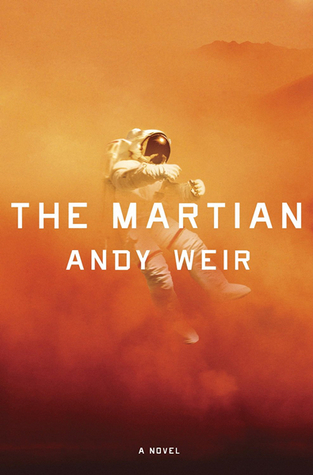 Title: The Martian
Author: Andy Weir
Published by: Crown; February 11, 2014 (Originally 2011)
Format/Source: I bought the Kindle edition.
Rating: 5 Stars
Six days ago, astronaut Mark Watney became one of the first people to walk on Mars.
Now, he's sure he'll be the first person to die there.
After a dust storm nearly kills him and forces his crew to evacuate while thinking him dead, Mark finds himself stranded and completely alone with no way to even signal Earth that he's alive—and even if he could get word out, his supplies would be gone long before a rescue could arrive.
Chances are, though, he won't have time to starve to death. The damaged machinery, unforgiving environment, or plain-old "human error" are much more likely to kill him first.
But Mark isn't ready to give up yet. Drawing on his ingenuity, his engineering skills—and a relentless, dogged refusal to quit—he steadfastly confronts one seemingly insurmountable obstacle after the next. Will his resourcefulness be enough to overcome the impossible odds against him?
Beginning:
I'm pretty much fucked.
Page 56:
"Because," Teddy said, "if Watney really is alive, we don't want the Ares 3 crew to know."
"What!?" Annie said. "How can you not tell them?"
"They have another ten months on their trip home," Teddy explained. "Space travel is dangerous. They need to be alert and undistracted. They're sad that they lost a crewmate, but they'd be devastated if they found out they'd abandoned him alive."
Review/Thoughts:
I had been seeing this book everywhere, so I finally decided to see what all the hype was about and I am so glad I did. I absolutely loved this book. The setting is unique and the story was done really well. I loved all the different sides of this story and how despite all of the difficulties, they all had to find a way to work together.
The main character is easily the best part of this story. Mark Watney has an incredible sense of humor and that really carries the story. He is in an impossible situation and still manages to laugh and joke. He felt like a real person in a real impossible situation.  And then he gets down to business. I was worried about how the science would come across in this book and for the most part it was easy to follow along. I didn't ever feel lost trying to follow along with Mark and his survival attempts.
Overall, I really enjoyed this book and I am so excited about the movie.  If you haven't gotten your hands on this book yet, please do so. I am so happy that everyone talked me into reading this book.
---
What's on your reading schedule for this weekend? 
I hope you have a nice weekend.
Happy Reading!