*Book Beginnings on Friday hosted by Rose City Reader
*Share the first sentence (or so) of the book you are currently reading, along with your initial thoughts about the sentence, impressions of the book, or anything else the opener inspires. Please remember to include the title of the book and the author's name.
~
Rules:
*Grab a book, any book.
*Turn to page 56 or 56% in your eReader
(If you have to improvise, that's ok.)
 *Find any sentence, (or few, just don't spoil it) that grab you.
---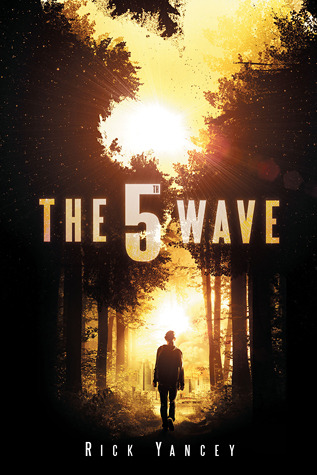 Title: The 5th Wave (The 5th Wave #1)
Author: Rick Yancy
After the 1st wave, only darkness remains. After the 2nd, only the lucky escape. And after the 3rd, only the unlucky survive. After the 4th wave, only one rule applies: trust no one.
Now, it's the dawn of the 5th wave, and on a lonely stretch of highway, Cassie runs from Them. The beings who only look human, who roam the countryside killing anyone they see. Who have scattered Earth's last survivors. To stay alone is to stay alive, Cassie believes, until she meets Evan Walker. Beguiling and mysterious, Evan Walker may be Cassie's only hope for rescuing her brother–or even saving herself. But Cassie must choose: between trust and despair, between defiance and surrender, between life and death. To give up or to get up.
Beginning:
Aliens are stupid.
I'm not talking about real aliens. The Others aren't stupid. The Others are so far ahead of us, it's like comparing the dumbest human to the smartest dog. No contest.
Page 56:
The idea that they wanted to kill all of us still wasn't something that had occurred to anyone, even the adults.
Thoughts:
I've had this book for a while and I've been meaning to start it for a while. Now that it's going to be a movie, it's moved up my TBR list. I've heard lots of good things about this book and I know a lot of people are very excited about the movie, so I'm definitely looking forward to starting this one.
---
What's on your reading schedule for this weekend? 
I hope you have a nice weekend.
Happy Reading!