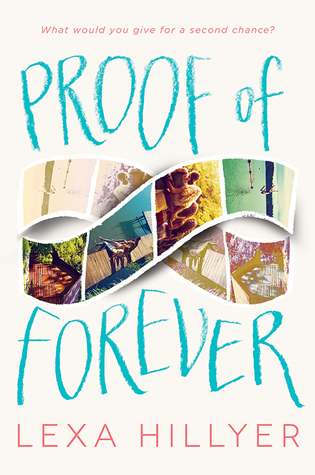 Title: Proof of Forever
Author: Lexa Hillyer
Published by: HarperCollins; June 2, 2015
Format/Source: E-Arc provided by the publisher via Edelweiss in exchange for an honest review.
My Rating: 4 Stars
Before: It was the perfect summer of first kisses, skinny-dipping, and bonfires by the lake. Joy, Tali, Luce, and Zoe knew their final summer at Camp Okahatchee would come to an end, but they swore they'd stay friends.
After: Now, two years later, their bond has faded along with those memories.
Then: That is, until the fateful flash of a photo booth camera transports the four of them back in time, to the summer they were fifteen—the summer everything changed.
Now: The girls must recreate the past in order to return to the present. As they live through their second-chance summer, the mystery behind their lost friendship unravels, and a dark secret threatens to tear the girls apart all over again.
Always: Summers end. But this one will change them forever.
My Review:
Joy, Tali, Luce, and Zoe ended their final summer at Camp Okahatchee as best friends, with a promise to stay that way. But life gets in their way and two years later, back at Camp for a reunion, these former best friends are now strangers. And they want nothing to do with each other.
One of the four suggest digging up a box the former friends buried, but they're caught sneaking around and use the photo booth as their cover. When the flash goes off and they leave the photo booth, they quickly realize something's different. They are transported two years into the past and realize they will have to work together to recreate that summer, in order to get back to the present. But how do they recreate a summer from the past when they're all so different in the present.
I loved how different the girls were. They are all dealing with things in their own lives and that makes some of them question their quest. If they don't like what they're going back to, should they try to go back? Now that they are sharing this experience, they finally start to piece together what went wrong that summer, and how they went from best friends to strangers.
Their quest was lots of fun and lots of hi-jinks. Add in a little summer romance and a few personal revelations and you end up with a really fun book about friendship and summer and second chances. Proof of forever is definitely a perfect summer book. I never went to a summer camp growing up, but I felt like I got a taste of it, with this book.
I was really impressed with this book. It made me laugh, smile, and even cry, a few times. I am such a sucker for books about best friends who find their way back to each other. These girls were the kind of friends anyone would be lucky to have. I definitely recommend this book and I highly suggest you don"t wait until next summer to dive into this book.
---
Happy Reading!