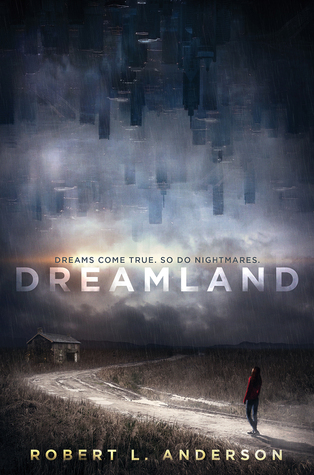 Title: Dreamland
Author: Robert L. Anderson
Published by: HarperTeen; September 22, 2015
Format/Source: E-Arc provided by the publisher via Edelweiss in exchange for an honest review.
Rating: 3.5 Stars
Odea Donahue has been able to travel through people's dreams since she was six years old. Her mother taught her the three rules of walking: Never interfere. Never be seen. Never walk the same person's dream more than once. Dea has never questioned her mother, not about the rules, not about the clocks or the mirrors, not about moving from place to place to be one step ahead of the unseen monsters that Dea's mother is certain are right behind them.
Then a mysterious new boy, Connor, comes to town and Dea finally starts to feel normal. As Connor breaks down the walls that she's had up for so long, he gets closer to learning her secret. For the first time she wonders if that's so bad. But when Dea breaks the rules, the boundary between worlds begins to deteriorate. How can she know what's real and what's not?
Review:
I was really excited to read Dreamland. I am fascinated by the idea of people walking in dreams. I read a book series a few years back that had a similar concept and I really enjoyed that series.  I didn't end up loving this one, but I enjoyed it and would love to read more about the world in this book.
Dea has to walk people's dreams or she gets sick. There are very strict and specific rules she is supposed to follow. But, then she decides to go against the rules and puts herself and others in danger. This was a case of a young heroine being young and immature. She and her mother got into an argument and she breaks the rules just to get back at her mother.
That part of the book kind of rubbed me the wrong way. I did appreciate how she grew up by he end of the book. Dea makes a lot of mistakes, but she also learns from them. 
This books features a little bit of insta-love and I don't think the mystery aspect of the story needed to be such a big part. I enjoyed the twist at the end and only wish we could have gotten more of that part of the story. This is one of the few stories that I think could have benefited from an extra hundred pages.
Overall, this was a good book and I'm hoping it gets a sequel, because the world that was built in this one has a lot of potential.
---
Happy Reading!