*Book Beginnings on Friday hosted by Rose City Reader
*Share the first sentence (or so) of the book you are currently reading, along with your initial thoughts about the sentence, impressions of the book, or anything else the opener inspires. Please remember to include the title of the book and the author's name.
~
Rules:
*Grab a book, any book.
*Turn to page 56 or 56% in your eReader
(If you have to improvise, that's ok.)
 *Find any sentence, (or few, just don't spoil it) that grab you.
---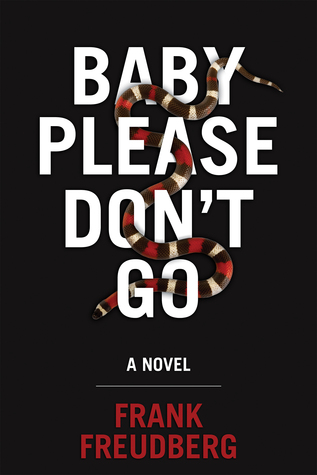 Title: Baby Please Don't Go
Author: Frank Freudberg
ALL LOCK GILKENNEY WANTS IS A FAMILY.
BUT HE'LL HAVE TO CROSS THE LINE TO GET ONE.
Lock is a dedicated investigator at Child Protective Services. An anonymous report of neglect comes in. He responds and finds the kids in good health. Lock concludes the report was a ruse, possibly part of a scheme to make Natalie Mannheim—the kids' mother—look bad in an upcoming divorce trial.
Natalie needs Lock's expertise to help her win custody—and a multi-million-dollar divorce settlement. He realizes she doesn't have a prayer in court against her shrewd husband, and only Lock can help her now.
Lock knows all about addiction, and he's aware of the powerful hold Natalie has on him. But he can't get her out of his head. Lock is caught between his commitment to take the high road and his burning desire to have a family. In this story of love, lust, deceit and murder, what Lock chooses to do will grab your imagination and never let go.
---
Beginning:
Tucked into a lush countryside of winding roads, hills and trees, and sprawling estates with their orchards and horse farms, was Red Cedar Woods-a small village in the heart of Brandywine County, Pennslyvania, thirty miles southwest of Philadelphia.
56%:
Breaking into Abby's email account was a horrible thing to do, he knew. Another betrayal. But Lock persuaded himself it had to be done.
Thoughts:
This sounds like a really interesting book. It seems like there is a lot going on with the main character and I'm definitely curious about his obsession and what becomes of that.
---
What's on your reading schedule for this weekend? 
I hope you have a nice weekend.
Happy Reading!