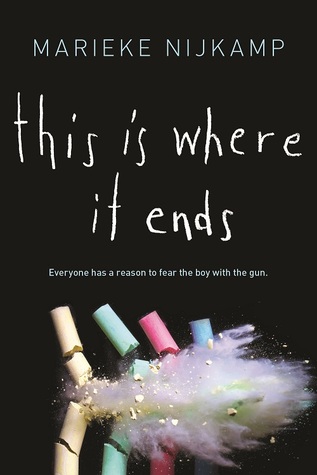 Title: This Is Where It Ends
Author: Marieke Nijkamp
Published by: Sourcebooks Fire; January 5, 2016
Format/Source: E-ARC provided by the publisher, via Netgalley, in exchange for an honest review.
My Rating: 4 Stars
10:00 a.m.
The principal of Opportunity, Alabama's high school finishes her speech, welcoming the entire student body to a new semester and encouraging them to excel and achieve.
10:02 a.m.
The students get up to leave the auditorium for their next class.
10:03
The auditorium doors won't open.
10:05
Someone starts shooting.
Told over the span of 54 harrowing minutes from four different perspectives, terror reigns as one student's calculated revenge turns into the ultimate game of survival.
Review
This Is Where It Ends is one of those books I feel weird for saying I really enjoyed, but I did. It is compelling and haunting and it totally sucked me in. It features an incredibly diverse cast of characters and beautiful writing.
The story is told from the perspectives of four different students, each with a connection to the shooter. They all have very strong feelings for him, both good and bad. It features very diverse characters, both POC and LGBTQ characters, and it does play a small role in what is happening in the story.
We also get little snippets of texts, tweets and Facebook posts, although I didn't really feel those were necessary. I don't think they really added anything to the story, except trying to build the tension, and not really succeeding, in my opinion.
I liked that two of the characters were outside of the actual shooting, it allows for a bigger picture. We get to see what's happening outside of the auditorium, as much as inside. The confusion and fear from outside of the auditorium comes across very well.
The big thing this story was missing for me was the shooter's perspective. We only see him through the eyes of the other characters. Their hesitation to believe he is capable of doing this horrible thing, and other's belief that he is. I would have liked to see how he saw himself and how his ind worked.
I think reading from his perspective, from before the shooting and leading up to it would have added another level to the story, and would have made it absolutely amazing. That was the only thing I would change about this book. It's obvious that he is troubled, but I don't think it came across as well as it could have.
Because we don't have his perspective, we get glimpses of him through memories and flashbacks, which kind of took something away from the story. I think the flashbacks kind of messed with the real time format. It kind of broke it up and didn't really feel natural.
That being said, I really enjoyed this book. I had high hopes going into it, and I was not disappointed. If you don't have a problem reading books with tough subjects, then this is a book for you. This is Marieke Nijkamp's first novel and I can't wait to see what she comes up with next.
---
Happy Reading!