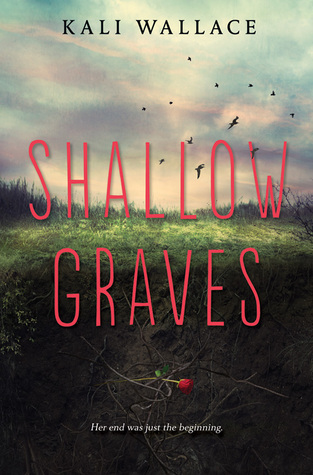 Title: Shallow Graves
Author: Kali Wallace
Published by: Katherine Tegen Books; January 26, 2016
Format/Source: E-arc provided by the publisher, via Edelweiss, in exchange for an honest review.
My Rating: 4 Stars
When seventeen-year-old Breezy Lin wakes up in a shallow grave one year after her death, she doesn't remember who killed her or why. All she knows is that she's somehow conscious—and not only that, she's able to sense who around her is hiding a murderous past. In life, Breezy was always drawn to the elegance of the universe and the mystery of the stars. Now she must set out to find answers and discover what is to become of her in the gritty, dangerous world to which she now belongs—where killers hide in plain sight and a sinister cult is hunting for strange creatures like her. What she finds is at once empowering, redemptive, and dangerous.
My Review
Shallow Graves is one of those books that will grab you from the very first sentence. It's probably one of my new favorite opening lines, ever. From there, the book goes in quite a few different directions and while it left slightly confused, at times, I found this book to be very compelling and extremely entertaining. It features some beautiful writing and a very diverse cast of characters.
Breezy Lin wakes up in a shallow grave a year after she died. She's not exactly dead, but she's not really alive, either. She also now possesses the ability to sense if someone has killed, and her world is now open to all of the monsters, she didn't know existed. She is now on a mission, to figure out what she is, how she died, and how she came to be the way she is now.
Breezy was an interesting character. She was incredibly brave, considering the circumstances. She was smart, she tried to explain everything, almost like a scientist. She did, however, purposefully put herself in danger a few times, which worried me a little.
The thing that made me take a star off for this book, was the plot. This is almost two different stories, from beginning to end. On the one hand, Breezy is trying to figure out what she is and how she fits into this world of monsters that she is now a part of. She is also focusing on the past, and trying to figure out who killed her, and how. It did throw me off, just a bit.
I loved that there is no real romance in this book. It's more of a past tense situation, where she is remembering something that happened, prior to her death. With everything going on in this book, a romance would have felt insincere and forced. The only bad thing about that is, we didn't really get to fully know some of the minor characters. There was some potential there that wasn't fully met.
I really enjoyed this book and I highly recommend it. The writing is fantastic and the main character is amazing. 
---
Happy Reading!