*Book Beginnings on Friday hosted by Rose City Reader
*Share the first sentence (or so) of the book you are currently reading, along with your initial thoughts about the sentence, impressions of the book, or anything else the opener inspires. Please remember to include the title of the book and the author's name.
~
Rules:
*Grab a book, any book.
*Turn to page 56 or 56% in your eReader
(If you have to improvise, that's ok.)
 *Find any sentence, (or few, just don't spoil it) that grab you.
---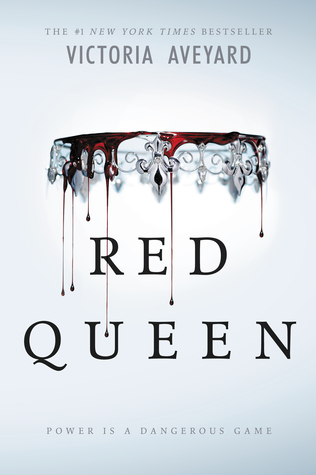 Title: Red Queen (Red Queen #1)
Author: Victoria Aveyard
Summary via Goodreads: This is a world divided by blood – red or silver.
The Reds are commoners, ruled by a Silver elite in possession of god-like superpowers. And to Mare Barrow, a seventeen-year-old Red girl from the poverty-stricken Stilts, it seems like nothing will ever change.
That is, until she finds herself working in the Silver Palace. Here, surrounded by the people she hates the most, Mare discovers that, despite her red blood, she possesses a deadly power of her own. One that threatens to destroy the balance of power.
Fearful of Mare's potential, the Silvers hide her in plain view, declaring her a long-lost Silver princess, now engaged to a Silver prince. Despite knowing that one misstep would mean her death, Mare works silently to help the Red Guard, a militant resistance group, and bring down the Silver regime.
But this is a world of betrayal and lies, and Mare has entered a dangerous dance – Reds against Silvers, prince against prince, and Mare against her own heart …
---
Beginning

:
I hate First Friday.
36%

:
I can't believe I didn't see him for what he was from the beginning: a wolf in sheep's clothing. And now I'm the sheep pretending to be a wolf.
Thoughts

:
I finally got around to reading this book, like I've been saying I would for a while now. I'm listening to this one on audiobook and I'm really enjoying it.
---
What's on your reading schedule for this weekend? 
I hope you have a nice weekend.
Happy Reading!