*Book Beginnings on Friday hosted by Rose City Reader
*Share the first sentence (or so) of the book you are currently reading, along with your initial thoughts about the sentence, impressions of the book, or anything else the opener inspires. Please remember to include the title of the book and the author's name.
~
Rules:
*Grab a book, any book.
*Turn to page 56 or 56% in your eReader
(If you have to improvise, that's ok.)
 *Find any sentence, (or few, just don't spoil it) that grab you.
---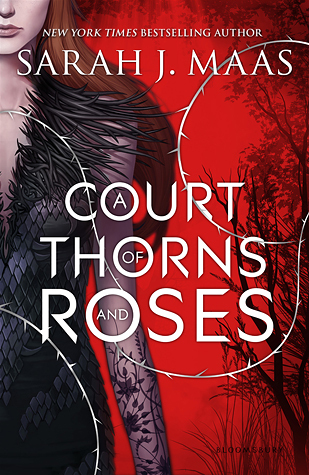 Title: A Court of Thorns and Roses (A Court of Thorns and Roses #1)
Author: Sarah J. Maas
When nineteen-year-old huntress Feyre kills a wolf in the woods, a beast-like creature arrives to demand retribution for it. Dragged to a treacherous magical land she only knows about from legends, Feyre discovers that her captor is not an animal, but Tamlin—one of the lethal, immortal faeries who once ruled their world.
As she dwells on his estate, her feelings for Tamlin transform from icy hostility into a fiery passion that burns through every lie and warning she's been told about the beautiful, dangerous world of the Fae. But an ancient, wicked shadow grows over the faerie lands, and Feyre must find a way to stop it . . . or doom Tamlin—and his world—forever.
---
Beginning:
The forest had become a labyrinth of snow and ice.
Page 56:
"If you're wise, you'll keep your mouth shut and your ears open. It'll do you more good here than a loose tongue. And keep your wits about you-even your senses will try to betray you here."
Thoughts:
I am halfway into this book, and I'm glad I finally decided to get around to reading it, because I am enjoying it very much. I'm loving this one as much as I love the Throne of Glass series.
---
What's on your reading schedule for this weekend? 
I hope you have a nice weekend.
Happy Reading!